Announcing
Necon XL*
An Anthology of Necon Fiction, History, Appreciations, and Memories
Edited By Matt Bechtel, Christopher Golden & Bracken MacLeod
Published by Haverhill House Publishing
Debuting at Necon 40, where A SPECIAL LIMITED EDITION will be gifted to all full registrants of the convention.
* Working Title
Latest News:
Dear Campers, If it seems like you've received this letter from me before, I don't know what to offer other than the famous Yogi Berra quote — it's deja vu all over again! A couple of months ago, I received a call from Deborah Melnick, our contact at Salem State. In a cost-cutting measure due to the COVID-19 pandemic, the university shuttered its summer events program and fired her entire department. In short, Necon was left searching for a new venue again. Among all of the proposals we received and considered from potential venues, there was one which blew us away and checked all of our proverbial boxes, maintaining the unique and quirky elements that make Necon, well, Necon. As such, I'm happy to announce that Necon 40 will now be held at the University of Massachusetts Lowell. The dates for our convention will remain July 15th – 18th, 2021, our entire dais of Guests has confirmed they still plan to attend, and all 250 Campers will still be housed in apartment-style suites on campus. Beyond that, UMass-Lowell has an on-campus art gallery that they plan to make available to us for our Art Show, and they will designate an outdoor lawn area as a "BYOB After Hours…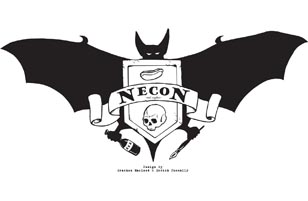 Dear Necon Campers, With profound sadness, we have decided to postpone Necon 40 until 2021. This decision was made in coordination with our hosts at Salem State University for the health and safety of us all (including their staff), and our excitement about relocating to their university remains unchanged,. But in light of the COVID-19 pandemic, we simply cannot ask our Campers to choose between staying home or risking your well-being by attending Necon during these uncertain times. The Commonwealth of Massachusetts remains under lockdown at the time of this writing, and we recognize that many of our attendees fall into the "highly at risk" category. To quote an esteemed Necon-Lifer who expressed concern about holding the convention this summer, if one person gets sick at Necon that's one person too many. The details of this postponement are simple — Necon 40 will now take place July 15th through 18th, 2021, and our announced dais of Guests have all confirmed they will join us next summer. All registrations and deposits will automatically be rolled forward, with July 1st, 2021 the new due date for balances to be paid in full. If this date change means you cannot attend Necon 40, please email me at matt@campnecon.com and…


Please CLICK HERE to email us with any questions or comments.