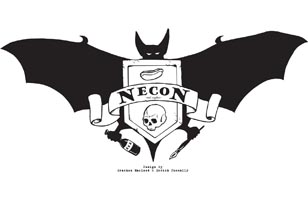 SCHEDULE OF EVENTS FOR NECON 40

FORTHCOMING
C'mon, you didn't actually expect this yet, did you?
We'll post the full schedule of events for Necon 40 much closer to the convention. In the meantime, for a taste of what you can expect, please see last year's event schedule below.
---
SCHEDULE OF EVENTS FOR NECON 39


(NOTE: Subject to change due to unforeseen circumstances)
THURSDAY
2:00 p.m.     Registration Opens
2:00 p.m.     Necon Hawaiian Shirt Contest Begins!
Secret judges will be watching all weekend, so any Hawaiian shirt worn during the convention is eligible to win!
5:00 p.m.     Welcome to Necon; We're Here to Help
Hosted by Toastmaster Kristin Dearborn and Hank Wagner
We're going beyond our usual introductory Q&A for "newbie" Campers to get their feet wet. In recognition that many of our attendees suffer from anxiety (including social anxiety disorder), this year's discussion group will also address coping with such issues while still enjoying your time at the convention.
10:00 p.m.     Saugy Roast
FRIDAY
8:00 a.m.     Breakfast
9:00 a.m.     Mini-Golf (a Necon Olympic Event)
9:00 a.m     Registration, Dealers Room, and Art Show Open
9:00 a.m.     The Frank Michaels Errington Five Star Books Kaffeeklatsch
James Chambers, Frank Raymond Michaels, Melissa Sherlin, Bev Vincent, Madelon Wilson
Our annual "year's best books" discussion, held in honor of one of the finest reviewers, champions, and friends this community has ever known. R.I.P., Frank; we love you.
10:00 a.m.     Celluloid Heroes: The Year's Best Movies Kaffeeklatsch
Michael Arruda, Asher Ellis, April Hawks, Michelle Renee Lane, Jonathan Lees
I'm relatively confident that at least John Buja will get the musical reference in the name of this kaffeklatsch.
11:00 a.m.     No Longer Just the Boob Tube: The Year's Best TV Kaffeeklatsch
Queres Abuttu, Elizabeth A. Black, Steve Cords, Gordon Linzner, Robert Macary
Simply put, thanks to new delivery systems, the content available via television has never been better. As such, it's time we recognize and discuss.
12:00 p.m.     Lunch; Registration, Dealers Room, and Art Show Close
1:00 p.m.     Registration, Dealers Room and Art Show Re-open
1:00 p.m.     RPG-Palooza!
Games hosted by John Goodrich, Chris Irvin, Roberty Macary, Ogmios, and possibly more.
1:00 p.m.     The Art of Unease: Weird Fiction, Strange Stories, and Other Surreal Horrors That Mess With Your Head
Laird Barron, Nadia Bulkin, Victoria Dalpe, John Foster (M), Todd Keisling, K.H. Vaughan
If you're a little bit perturbed by this panel, you should be …
2:00 p.m.     The Shadow Out of Time: The Influence of Classic Horror Fiction On Today's Horror Fiction
Meghan Arcuri-Moran, Jack Haringa (M), Grady Hendrix, Michael Rowe, Matt Schwartz, ** Mystery Guest Panelist **
Those who do not know the past may be condemned to repeat it, but those who recognize how the genre's past shapes its present and future make for a darn interesting panel.
3:00 p.m.     In Poe's Footsteps: Drawing On Horror's Rich Literary Tradition For Your Own Writing
Richard Dansky (M), Kristin Dearborn, John Langan, Jennifer McMahon, Paul Tremblay, Chet Williamson
We purposefully scheduled this panel for right after the last. While the former will discuss the history of horror and themes within the genre and business, these authors will tackle direct influences upon, and inspirations for, their own work.
4:00 p.m.     Speaking in Strange Tongues: Writing Both Poetry and Prose
Linda Addison, Jill Bauman, Gary Frank, Sandra Kasturi, Thomas Tessier, Trisha Wooldridge (M)
Writing in prose and writing in verse are akin to speaking different languages. Our accomplished panelists let us in on how they do it without a Rosetta Stone.
5:00 p.m.     Necon 39 Class Photo and Del's Frozen Lemonade (at the flagpole out front)
5:30 p.m.     Dinner; Registration, Dealers Room, and Art Show Close
7:00 p.m.     Official Necon 39 Toast by Toastmaster Kristin Dearborn
7:30 p.m.     Necon Update with Mike Myers
8:00 p.m.     Meet the Authors Party
10:00 p.m.     Darts (a Necon Olympic Event)
10:00 p.m.     Foosball (a Necon Olympic Event)
SATURDAY
8:00 a.m.     Breakfast
9:00 a.m.     Registration, Dealers Room, and Art Show Open
9:00 a.m.     Funny Bones: We Can't Teach You to Write Well, But We Can Teach You to Write Funny
William D. Carl, Craig Shaw Gardner, Mary Hart, John McIlveen (M), Kyle Rader, Halli Villegas
Bob Booth used to say that the only difference between a horror writer and a humor writer is that a humorist copes with what scares them by laughing at it rather than screaming. With that in mind, is it any wonder there are so many damn funny people at Necon?
10:00 a.m.     Caught in Charlotte's Web: The Children's Books That Scarred Us For Life
Dana Cameron, Tom Deady, Jaime Levine, Hillary Monahan (M), Jeff Strand, Dan Waters
Hey, we all had to start somewhere, right? So what books from our youths had such a profound influence that they led us down the creative paths we travel today?
11:00 a.m.     Such Sights to Show You: A Celebration of Clive Barker's Books of Blood On Its 35th Anniversary
P.D. Cacek, Larissa Glasser (M), Bracken MacLeod, Rena Mason, Armand Roasmillia, Hank Wagner
Six volumes. Thirty stories. Countless adaptations. Unspeakable reach and influence. Our panelists open a vein on Barker's seminal work.
12:00 p.m.     Lunch; Registration, Dealers Room, and Art Show Close
1:00 p.m.     Dealers Room and Art Show Re-open
1:00 p.m.     Guest of Honor Interviews (Note: extended 90 minute panel)
Linda Addison, Kristin Dearborn (M), Grady Hendrix, John Langan
The centerpiece of Necon Programming. Toastmaster Kristin Dearborn honorably interviews this year's Guests. 
2:30 p.m.     Let's Get Visual: Telling Stories by Crossing / Mixing Media
Aaron Dries, Duncan Eagleson, Lynne Hansen, Reiko Murakami, Cat Scully (M), Angi Shearstone, Ryan Wick
If a picture is worth a thousand words, then what's the word count for a film, graphic novel, or piece of fine art? Our experts talk storytelling via visual media.
3:30 p.m.     I Know I Made You, But I Don't Really Like You: Unreliable Narrators and Unlikeable Protagonists
David Demchuk, Dan Foley, Marianne Halbert, Sheri Sebastian-Gabriel, Tom Tessier, Craig Wolf (M)
Sometimes the most interesting people with the best stories aren't the nicest people or the most reliable of sources. But what if that person is your own creation? How do you write a book when you don't like your main character?
4:30 p.m.     It's a Bird! It's a Plane! Writing Superheroes in the 21st Century
Rachel Autumn Deering, Christopher Golden, Carol Gyzander, Nicholas Kaufmann (M), Errick Nunnally, Charles Rutledge
Following with this theme, Superman's tagline used to be, "Truth, Justice, and the American Way," a phrase that could be interpreted very differently today. Yet superheroes aren't just persisting in 2019, they're thriving. Our authors tell us how.
5:30 p.m.     Dinner; Registration, Dealers Room, and Art Show Close
6:30 p.m.     Artists Reception
8:00 p.m.     A Live Presentation / Performance by Grady Hendrix
Grady Hendrix turns off the lights and tells a ghost story about two teenaged girls that is not what you expected but also it happens to be every ghost story, and you might find it familiar.
Duration: 50 minutes
9:00 p.m.     The Infamous Necon Roast
*** DISCLAIMER — A note about the Infamous Necon Roast. Friends, it's infamous for a reason. Though the roast is conducted with love and respect, if there are things you don't want to hear joked about, it's quite possible they will be. The event is rude, crude, and lewd. If you feel you may take offense, please don't feel obligated to attend. We want you to have a comfortable, enjoyable Necon, and we thank you for joining us this weekend.
10:00 p.m.     High-Low-Jack (a Necon Olympic Event)
10:00 p.m.     Ping Pong (a Necon Olympic Event)
10:00 p.m.     More Saugies!
SUNDAY
8:00 a.m.     Breakfast
9:00 a.m.     Dealers Room and Art Show Open
9:00 a.m.     What Is Dead May Never Die: How Game of Thrones and Other Dark Fantasies Borrow From (and Give Back to) Horror
John Buja, Vikki Ciaffone, Paul McNamee (M), David Price, Darrell Schweitzer, Morgan Sylvia
Giant, fire-breathing monsters and other creatures not of this world. Megalomaniacal villains hellbent on world domination. Extreme violence, including blood and gore.  Are we talking about the fantasy genre, or the horror genre? The answer is yes.
10:00 a.m.     Noir, Noir, Noir! How Do You Like It? How Do You Like It?
doungjai gam bepko, Angel Luis Colon, Barry Lee Dejasu, Nik Korpon, Hildy Silverman, Tony Tremblay (M)
It was drizzly night. I shook out my last Pall Mall as I entered the dive at the three-way intersection of Horror, Crime, and Mystery — a place called "Noir." I eavesdropped as six authors talked, determined to learn why this place had recently become such a happening hang out for genre writers …
11:00 a.m.     Necon Town Meeting
12:00 p.m.     Dealers Room and Art Show Close
12:00 p.m.     Farewell Picnic