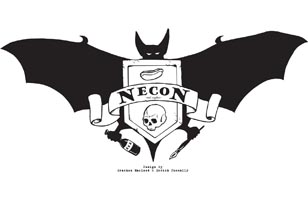 SCHEDULE OF EVENTS FOR NECON 39 (7/18/19 – 7/21/19)
*** Forthcoming ***
We'll post our full schedule of events once it's finalized, which will be much closer to the convention. For an idea of what to expect from Necon Programming, please browse last year's schedule below.
---
SCHEDULE OF EVENTS FOR NECON 38 (7/19/18 – 7/22/18)
(NOTE: Subject to change due to unforeseen circumstances)
THURSDAY
2:00 p.m. Registration Opens
2:00 p.m. Necon Hawaiian Shirt Contest Begins!
Once again, secret judges will be scouring Necon all weekend, silently judging you all (or, at least judging the Hawaiian Shirts you're wearing!)
4:00 p.m. Welcome to Necon, Newbies!: Kaffeeklatsch hosted by Errick A. Nunnally & Laura J. Hickman
We're not TOO harsh on first timers! Still, if you're suffering from those "newbie jitters," this informal Q&A discussion group, hosted by Toastmaster Errick A. Nunnally and Laura J. Hickman, is the perfect way to get your feet wet. Plus, you'll learn all about this year's Newbie Scavenger Hunt!
10:00 p.m. Saugy Roast
(featuring a special musical performance on the quad by Lara McIlveen)
FRIDAY
8:00 a.m. Breakfast
9:00 a.m. Mini-Golf (a Necon Olympic Event)
9:00 a.m. Registration, Dealers Room, and Art Show Open
9:00 a.m. Upon Further Review: Book Review Kaffeeklatsch
Stephen Cords, Brian Kirk, Frank Raymond Michaels, Madelon Wilson, Craig Wolf
This discussion will cover all things related to book reviews — writing them, soliciting them, and using them to market your work — and doing it effectively.
10:00 a.m. Read Any Good Books Lately?: The Year's Best Books Kaffeeklatsch
Barry Lee Dejasu, Jaime Levine, Hildy Silverman, Erin Underwood, Hank Wagner,
A chance to discuss and share your favorite books published since last Necon.
11:00 a.m. And the Oscar Goes To: The Year's Best Films Kaffeeklatsch
Michael Arruda, Scott Goudsward, Rena Mason, Charles Rutledge, Matt Schwartz, L.L. Soares
Black Panther. There, I saved you all an hour.
12:00 p.m. Lunch; Registration, Dealers Room, and Art Show Close
1:00 p.m. Registration, Dealers Room, and Art Show Re-open
1:00 p.m. RPG-Palooza!
Hosted by John Goodrich, Robert Macary and Ogmios
This year, we have three separate RPGs being hosted by the above-listed Campers on Friday afternoon. More information and sign-up sheets will be available at Registration.
1:00 p.m. Angry Little Gods: The Art of World-Building
Dana Cameron, Charles Colyott, Craig Shaw Gardner (M), Charlaine Harris, James A. Moore, Nicole Peeler
For some authors, it's not enough to simply create characters and plots; some feel the need to create their own worlds as well. Sometimes those worlds are identical to our own with just a few tweaks, and sometimes they're vastly different. Our panel of architects discuss what it's like to build your own sandbox before letting your characters play in it.
2:00 p.m. The Spark: What Inspires a Great Short Story
Meghan Arcuri-Moran, Christa Carmen, Nicholas Kaufmann (M), Toni L.P. Kelner, Ed Kurtz, Lisa Manetti, Helen Marshall
It's the question all short fiction writers hate — "Where do your stories come from?" And since most Necon Campers are too old to believe that old wives' tale about a stork, we've gathered some of the best in speculative short fiction to give us a glimpse into their creative process.
3:00 p.m. Invasion of the Pod People: Creating Your Own Podcast
Amber Fallon, Chris Golden, Brian Keene, James A. Moore, Mary SanGiovanni, Armand Rosamilla (M), David Thomas
The internet has provided new venues for authors to create content, report news, and connect with their audience. Of course, it provided that same soapbox to literally everyone else on the planet, too. Our panelists discuss how to do it right and not wind up just another guy screaming on the street corner.
4:00 p.m. Changing Lanes: Writing in More Than One Genre
David Wellington, Dana Cameron, Chris Irvin (M), Helen Marshall, Errick Nunnally, David Demchuk, F. Paul Wilson
Horror, mystery, science fiction, crime, fantasy … How are authors successfully writing and building audiences across multiple genres? Our extremely versatile panelists discuss how they pull it off.
5:00 p.m. Necon 38 Class Photo
Last year, a fire alarm forced us to evacuate the hotel right before dinner and we wound up taking an awesome photo, so this year, we're planning on it! Please meet at the flagpole out front and we'll snap a group pic of all of us together.
5:30 p.m. Dinner; Registration, Dealers Room, and Art Show Close
7:00 p.m. Official Necon 38 Toast by Toastmaster Errick A. Nunnally
7:30 p.m. Necon Update with Mike Myers
(immediately followed by the Necon Hall of Fame Induction Ceremony)
8:00 p.m. Meet the Authors Party
A massive book signing held throughout the lounge, bar, and cafeteria. Your opportunity to meet the authors, purchase their works, and have them signed. Pretty much why must of you came to Necon.
10:00 p.m. Darts (a Necon Olympic Event)
10:00 p.m. Foosball (a Necon Olympic Event)
SATURDAY
8:00 a.m. Breakfast
9:00 a.m. Registration, Dealers Room, and Art Show Open
9:00 a.m. Doin' It For the Kids: Children's Literature vs. Mid-Grade vs. Young Adult
Patrick Freivald, Lynne Hansen (M), Peter Johnson, Kya Stillson, Jeff Strand, Trisha J. Wooldridge
You can never start a reader too young, but the business of publishing has made putting a book into a kid's hands more and more complicated. Our panelists will discuss writing, selling, and marketing books aimed at the different pre-adult audiences.
10:00 a.m. BOO!: Modern Ghost Stories
P.D. Cacek (M), Tom Deady, John Foster, Michael Rowe, Sheri Sebastian-Gabriel, Tony Tremblay, Dan Waters
The oldest horror tales in the world involve ghosts and haunted places, and they're still going strong today. What keeps the public interested in hauntings? What are some modern examples that both honor this age-old tradition and put a new spin on it?
11:00 a.m. Closing Time: Remembering the Life and Work of Jack Ketchum
Linda Addison, Jill Bauman, Ginjer Buchanan, Sephera Giron, Jack Haringa, Gordon Linzner, Doug Winter (M)
The horror community lost a giant when Jack Ketchum passed, but Necon lost our friend, Dallas. Our panelists discuss the man, his work, and his legacy. (NOTE: It was heartbreaking for us to choose participants for this panel, as so many Campers belong upon it; therefore, please prepare and allow for a heavy amount of audience participation.)
12:00 p.m. Lunch; Registration, Dealers Room, and Art Show Close
1:00 p.m. Dealers Room and Art Show Re-open
1:00 p.m. Guest of Honor Interviews (Note: extended 90 minute panel)
Dana Cameron, Helen Marshall, Errick A. Nunnally (M), David Wellington
The annual linchpin of Necon programming — Toastmaster Errick A. Nunnally interviews our three Writer Guests of Honor.
2:30 p.m. Size Doesn't Matter: The Trials and Triumphs of Operating Your Own Small Press
David Dodd, Sandra Kasturi, John McIlveen (M), Elizabeth Monteleone, Tom Monteleone, Brett Savory, David Niall Wilson,
The small press has always been a fixture in the world of speculative fiction; in fact, some would say it's the backbone. Of course, the expectations and demands of operating a small press have changed over the years. Representatives from some of the best small presses in the business discuss their trade.
3:30 p.m. When Your Book Has a Soundtrack: The Influence of Music on Your Writing
Matt Bechtel (M), Doungjai Gam Bepko, Martina Cole, Rachel Autumn Deering, Gary Frank, Bracken MacLeod
By evoking the strongest memories and emotions, music tends to permeate almost all aspects of our lives. But what when it inspires, influences, or informs your own art? A group of writers who we all believe secretly dreamt of life as a rock star discuss.
4:30 p.m. It's Kind of a Long Story: The Art of the Novel
William D. Carl, James Chambers, Kristin Dearborn (M), Nate Kenyon, David Wellington, Mercedes M. Yardley, Rio Youers
Whether it's a standalone novel or a series, long-form fiction comes with its own challenges and rewards. These authors will share their tips on everything from outlining and plotting to the perseverance necessary to finish and the steps that come after you've typed "The End."
5:30 p.m. Dinner; Registration, Dealers Room, and Art Show Close
6:30 p.m. Artists Reception
Pastries and coffee will be served. It's a classy affair by our standards.
7:30 p.m. That Damned Game Show featuring Craig Shaw Gardner & Doug Winter
Please find this year's rules printed on page 34 of the Necon Program Book. Seriously, we made them print the rules ahead of time so Doug wouldn't spend the first fifteen minutes reading them. You're welcome!
8:45 p.m. A Special Performance by The Necon Whores
Once again, we're not even sure what they're up to, but we just can't say no to The Whores!
9:00 p.m. The Infamous Necon Roast
Anyone who tells you they know who this year's victim will be is lying (even the hosts!).
10:00 p.m. High-Low-Jack (a Necon Olympic Event)
10:00 p.m. Ping Pong (a Necon Olympic Event)
10:00 p.m. More Saugies (plus another surprise)!
SUNDAY
8:00 a.m. Breakfast
9:00 a.m. Dealers Room and Art Show Open
9:00 a.m. Being Weird in the 21st Century: Cosmic Horror and Weird Fiction Beyond Lovecraft's Mythos
John Goodrich, Paul McMahon, Mary SanGiovanni (M), Darrell Schweitzer, K.H. Vaughan, Halli Villegas
The Old Ones may be timeless, but that doesn't mean Weird Fiction doesn't occasionally need to be refreshed. How has this style of literature stayed so popular and relevant through the years? Our experts share their insights.
10:00 a.m. The Modern Prometheus: Classic and Cutting Edge Technology for Writing and Illustrating
Duncan Eagleson, Jason C. Eckhardt, Lynne Hansen, Jason Salzarulo, Cat Scully (M), Angi Shearstone
Creativity is transcendent, but the tools we use to create our art are products of our time. How have new technology and software changed your work process, and when do you still reach for pen and paper? Writers and artists chime in (and, hopefully, share some tips!).
11:00 a.m. Necon Town Meeting
Tell us what we did wrong, what we did right, and what you'd like to see us do next year. Also, we award the Necon Olympic Medals!
12:00 p.m. Dealers Room and Art Show Close
12:00 p.m. Farewell Picnic