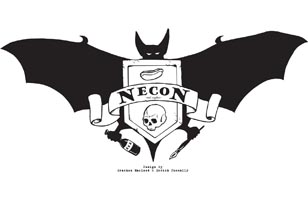 SCHEDULE OF EVENTS FOR NECON 38 (7/19/18 – 7/22/18)
*** FORTHCOMING ***
C'mon, you didn't really expect us to have the programming schedule for next year set already, did you? Necon 37 just ended! We'll post Necon 38's Official Schedule of Events much closer to the convention; in the meantime, please browse this past Necon's schedule for an idea of what may be in store!
---
SCHEDULE OF EVENTS FOR NECON 37 (7/20/17 – 7/23/17)
(NOTE: Subject to change due to unforeseen circumstances)
THURSDAY
2:00 p.m.        Registration Opens
2:00 p.m.        Necon Hawaiian Shirt Contest Begins!
Once again, three secret judges will be scouring Necon all weekend, silently judging you all (or, at least judging the Hawaiian Shirts you're wearing!)
4:00 p.m.        Welcome to Necon, Newbies!: Kaffeeklatsch hosted by Lynne Hansen
Don't worry, we're not TOO harsh on first timers! Still, if you're suffering from those "newbie jitters," this informal Q&A discussion group, hosted by Toastmaster Lynne Hansen, is the perfect way to get your feet wet.
10:00 p.m.      Saugy Roast            
FRIDAY
8:00 a.m.        Breakfast
9:00 a.m.        Mini-Golf (a Necon Olympic Event)
9:00 a.m.        Registration, Dealers Room, and Art Show Open
9:00 a.m.        All Writing is Rewriting: Editors Kaffeeklatsch
Jane Jewell, Vikki Ciaffone, Kurt Criscione, Jeff Deck, Gordon Linzner
Before writers spend the next three days talking, we thought we'd let a group of editors lead a discussion and get a few words in edgewise.
10:00 a.m.      Year's Best Books Kaffeeklatsch
Bev Vincent, William Carl, Frank Michaels Errington, Tony Tremblay, Frank Raymond Michaels
Nine times out of ten, this 'klatsch is better than the movie one.
11:00 a.m.      Year's Best Films Kaffeeklatsch
Stephen Cords, Paul McMahon, Barry Lee Dejasu, Michael Arruda, Doungjai Gam Bepko
A discussion of the year in film as led by a group of Necon's esteemed cinema buffs (spoiler alert: expect much Rogue One and Wonder Woman talk!).
12:00 p.m.      Lunch; Registration, Dealers Room, and Art Show Close
1:00 p.m.        Registration, Dealers Room, and Art Show Re-open
1:00 p.m.        Kaiju Big Battle: Why Giant Monsters Are on the Rise Again
John Goodrich, John W. Dennehy, Nicholas Kaufmann (M), Gemma Files, Craig Shaw Gardner, Darrell Schweitzer
We all grew up on Saturday afternoon movies with badly overdubbed dialogue and massive, larger-than-life monsters. Those monsters are on the rise again like … well, like Godzilla rising from the Pacific! But why? Our panelists discuss the resurgence of giant monsters and try to formulate a plan to save Tokyo.
2 – 5:00 p.m. Filming: The Taco Society Presents
Hosted in the bar by Tony Tremblay & Matt Bechtel
The Taco Society Presents will be filming short (3 – 5 minute) interviews with all Neconers who contributed to the Necon E-Books charity anthology Now I Lay Me Down to Sleep. A separate schedule will be created to ensure there are no conflicts for panelists scheduled for Friday afternoon. Any interested campers are invited to attend and watch.
2:00 p.m.        Who Are You Calling Weird?: Weird Fiction in the New Century
Laird Barron, John Langan, Sandra Kasturi, Jack Haringa (M), Bob Boyczuk, Douglas Wynne
The more things change, the more they stay weird! Weird fiction dates back to the late 19th century, and the real world is a far different place now than when the subgenre began. So, just what's "weird" in 2017?
3:00 p.m.        Heroes Like Me: The Importance of Representation in Genre
Errick A. Nunnally (M), Linda Addison, Hal Bodner, Larissa Glasser, Meghan Arcuri-Moran, Elizabeth Black
The importance of the blockbuster success of Wonder Woman cannot be understated … and also cannot be taken as proof that we're living and working in a post-prejudice world as artists. Our panelists discuss the importance of fictional worlds as rich with diversity as the one in which we live.
4:00 p.m.        Diplomacy by Other Means: Violent Engagement in Horror
Dan Foley, Weston Ochse, Chris Irvin, Richard Dansky (M), Yvonne Navarro, James A. Moore
"War! HUH! Good God! What is it good for? Absolutely nothing!" Well, nothing but some truly amazing works of literature, that is. Our experts will engage on this topic until someone waves a white flag of surrender.
5:30 p.m.        Dinner; Registration, Dealers Room, and Art Show Close
7:00 p.m.        Official Necon 37 Toast by Toastmaster Lynne Hansen
7:30 p.m.        Necon Update with Mike Myers
(immediately followed by the NECON HALL OF FAME INDUCTION CEREMONY)
8:00 p.m.        Meet the Authors Party
10:00 p.m.      Darts (a Necon Olympic Event)
10:00 p.m.      Foosball (a Necon Olympic Event)
SATURDAY
8:00 a.m.        Breakfast
9:00 a.m.        Registration, Dealers Room, and Art Show Open
9:00 a.m.        Fresh Fangs: Making Traditional Tropes Breathe Again
Morven Westfield, Janet Joyce Holden, David Demchuk, James Chambers (M), Gary Frank, Tom Deady
The classics never die, but they sure can get played out if overused by less-than-skillful artists. What's the secret to keeping a trope fresh? How does one not reinvent the wheel, yet also not lean too heavily on the traditions that precede their work?
10:00 a.m.      Long Distance Weirdness: Building and Maintaining a Series
Dana Cameron (M), Heather Graham, Allison Pang, Weston Ochse, Gemma Files, Martina Cole
On one hand, there's little worse than reading a book and knowing, blatantly, that it does not stand alone as its own novel and is merely setting up the sequels to come. On the other hand, there's Robert Jordan's Wheel of Time series. So, what's the secret to doing it right?
11:00 a.m.      Get 'Em While They're Young: New YA Horror
Cat Scully, Jamie Levine, Jeff Strand (M), Trisha Wooldridge, Daniel Waters, Patrick Freivald
No one would argue that getting young people to read isn't an essential and wonderful goal … and at Necon, no one would argue that getting them to read horror is even better! The panel discusses what books are currently laying the groundwork to inspire the next generation of Campers to register for Necon 47.
12:00 p.m.      Lunch; Registration, Dealers Room, and Art Show Close
1:00 p.m.        Dealers Room and Art Show Re-open
1:00 p.m.        Guest of Honor Interviews (Note: extended 90 minute panel)
Laird Barron, Gemma Files, Weston Ochse, Lynne Hansen (M)
If our Guests of Honor aren't prepared to be at Lynne Hansen's mercy for an hour and a half, they never should've accepted our invitation to join us!
2:30 p.m.        Bubbles, Boxes, Frames: Illustration and Ilustrated Narratives
Matthew Dow Smith (M), Duncan Eagleson, Jill Bauman, Kristina Carroll, Cortney Skinner, Dave Hinchberger
Thanks to advances in both technology and publishing, there are have never been so many avenues for the creation and distribution of illustrated work. From comic books to graphic novels to adult coloring books, our panel discusses the peanut-butter-and-chocolate-like marriage of words and pictures.
3:30 p.m.        Necon Fight Club: Accurate Portrayal of Martial Arts
Charles Rutledge, Charles Colyott (M), Yvonne Navarro, Bracken MacLeod, James A. Moore, Mike Casto
The "TL;DR" version of this panel is, "Don't pick a fight at Necon!" as many of our Campers have spent years studying martial arts. But how have those studies impacted both the content (i.e. writing accurate, yet action-packed fight scenes) and the process (i.e. what have they learned studying martial arts that they've applied to their craft) of their work?
4:30 p.m.        Greater Than the Sum: Collections, Linked and Otherwise
Elizabeth Massie (M), John Langan, Ed Kurtz, John Urbancik, Matt Bechtel, Laird Barron
The art of writing short fiction is obviously far different than that of writing a novel. That said, putting together a collection is also far different than writing any one tale. And what about when the stories are linked by a common setting or overlapping characters? Our panelists discuss the Jenga-like process of constructing a single-author collection.
5:30 p.m.        Dinner; Registration, Dealers Room, and Art Show Close
7:30 p.m.        Artists Reception
8:45 p.m.        A Very Special Surprise Performance!
Just trust us — you do NOT want to miss this!
9:00 p.m.        The Infamous Necon Roast
In the immortal words of the Human Torch, "Flame on!"
10:00 p.m.      High-Low-Jack (a Necon Olympic Event)
10:00 p.m.      Ping Pong (a Necon Olympic Event)
10:00 p.m.      More Saugies!
SUNDAY
8:00 a.m.        Breakfast
9:00 a.m.        Dealers Room and Art Show Open
9:00 a.m.        Speak to Me in Many Voices: Anthology Editing
Scott Goudsward, Michael J. Evans, David Price, P.D. Cacek, Laura J. Hickman, John M. McIlveen (M)
Remember everything from Saturday's panel about short story collections and how tough they are to put together well? Well, now imagine trying to create a book that works as a cohesive whole when every story is written by a different author! Our anthology editors, all of whom have submitted their own work to plenty of anthologies themselves, share war stories from the trenches.
10:00 a.m.        This Is Not a Game: Science Fiction and Video Game Influence
Nate Kenyon (M), Lucien Soulban, Brett Savory, Hildy Silverman, Peter Heck, K.H. Vaughan
And to be clear, this is not a gaming panel, either! But the truth is, action-oriented games and films have had a profound impact on science fiction. How can sci-fi stand up as a genre of ideas when so much prevailing pop culture sci-fi lacks any philosophy or science behind it?
11:00 a.m.      Necon Town Meeting
Tell us what we did wrong, what we did right, and what you'd like to see us do next year.
12:00 p.m.      Dealers Room and Art Show Close
12:00 p.m.      Farewell Picnic (Note: weather permitting, this will be held outside on the quad)