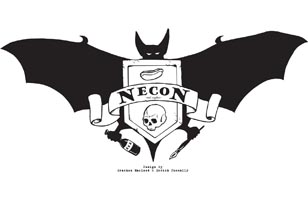 NECON 39 IS NOW OFFICIALLY SOLD OUT!
#SorryNotSorry!
This seems to happen quicker and quicker every year, but we're excited to announce that we've reached our capacity and Necon 39 is now officially SOLD OUT. Once again, thank you to all of our Campers; it is your excitement and love for this convention that makes Necon so special!
Walk-in registrations for Necon 39 are still available and afford full access to all convention activities and events (you simply can't sleep or eat at the Baypoint Inn & Conference Center). Moreover, due to the fact that we always have last-minute cancellations, we've begun a first-come, first served Waiting List should spots become available. Finally, if you've already made a deposit towards a full Necon 39 registration and would like to pay your remaining balance, you can still do that too! To register as a walk-in, pay your balance, or to join the Waiting List, please simply use the form below and select the appropriate "Payment Option"; after hitting the "Submit" button, you will be transferred to our "Process Payment" page, where you'll be prompted to pay via PayPal (and if you're joining the Waiting List, please just ignore that step).
Thank you again and we look forward to seeing you at Necon 39!
** Please Note — Upon submitting this form, your e-mail address will automatically be added to our mailing list. **
* * * * *