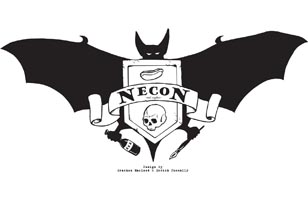 REGISTRATION FOR NECON 39 IS NOW OFFICIALLY OPEN!
We're thrilled to announce that we're now accepting registrations for Necon 39 (to be held July 19th – 21st, 2019, at the Baypoint Inn & Conference Center in Portsmouth, RI). To register, simply fill out the form below; after hitting the "Submit" button, you will be transferred to our "Process Payment" page, where you'll be prompted to pay via PayPal. Should that not happen, or should you have any questions whatsoever, please contact us via the e-mail link at the top of the righthand sidebar.
Or, if you'd prefer to handle things the old-fashioned way and send us a paper check via the mail, PLEASE CLICK HERE to download / print a PDF of our registration form (which includes our mailing address).
Thank you and we look forward to seeing you at Necon 39!
** Please Note — Upon submitting your registration form, your e-mail address will automatically be added to our mailing list. **
* * * * *