Announcing
Necon XL*
An Anthology of Necon Fiction, History, Appreciations, and Memories
Edited By Matt Bechtel, Christopher Golden & Bracken MacLeod
Published by Haverhill House Publishing
Debuting at Necon 40, where A SPECIAL LIMITED EDITION will be gifted to all full registrants of the convention.
* Working Title
Latest News: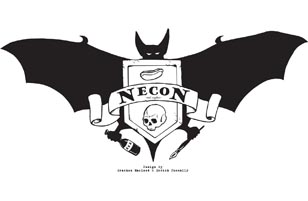 Dear Necon Campers, With profound sadness, we have decided to postpone Necon 40 until 2021. This decision was made in coordination with our hosts at Salem State University for the health and safety of us all (including their staff), and our excitement about relocating to their university remains unchanged,. But in light of the COVID-19 pandemic, we simply cannot ask our Campers to choose between staying home or risking your well-being by attending Necon during these uncertain times. The Commonwealth of Massachusetts remains under lockdown at the time of this writing, and we recognize that many of our attendees fall into the "highly at risk" category. To quote an esteemed Necon-Lifer who expressed concern about holding the convention this summer, if one person gets sick at Necon that's one person too many. The details of this postponement are simple — Necon 40 will now take place July 15th through 18th, 2021, and our announced dais of Guests have all confirmed they will join us next summer. All registrations and deposits will automatically be rolled forward, with July 1st, 2021 the new due date for balances to be paid in full. If this date change means you cannot attend Necon 40, please email me at matt@campnecon.com and…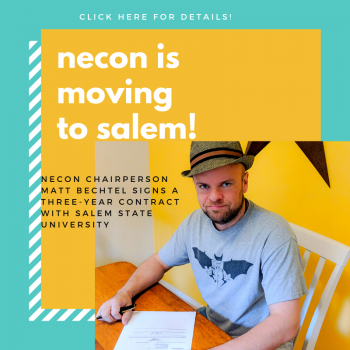 Necon Is Changing Its Venue to Salem State University in Salem, MA, Increasing Capacity to 250 Campers Dear Necon Campers, Here's the TL;DR version of what follows — The Northeastern Writers' Conference is thrilled to announce that we are changing our venue and increasing our capacity. Beginning this summer at Necon 40 (July 16th – 19th, 2020), the convention will be held at Salem State University in Salem, MA, and can accommodate up to 250 fully registered (i.e. four-day, overnight) Campers. Before we launch into the full story, you may want to pour yourself a cup of coffee — or, perhaps, two fingers of Maker's Mark — and get comfy. 🙂 Shortly after Necon 39 concluded, we were informed by Roger Williams University that they were undergoing institutional changes and could not confirm the Baypoint Inn & Conference Center for our announced dates next summer. We immediately began researching other venue options, and we'll be straight with everyone, the results were not promising. Finding a venue that "checked every box" Necon requires was daunting, and we began to fear we'd have to accept a location that, quite frankly, would have sacrificed much of what makes Necon "Necon" (i.e. the convention would have morphed…


Please CLICK HERE to email us with any questions or comments.