Announcing
Necon XL*
An Anthology of Necon Fiction, History, Appreciations, and Memories
Edited by Bracken MacLeod
Published by Haverhill House Publishing
Debuting at Necon 40, where A SPECIAL LIMITED EDITION will be gifted to all full registrants of the convention.
* Working Title
Latest News:

Dear Necon Campers, I'm sure you're as tired of receiving these type of announcements as we are of making them. That said, I also recognize this is the only smart, safe, and reasonable course of action before us and I doubt this news will come as much of a surprise. Plus, I promise the second half of this announcement will be more fun! We had a Zoom call with our liaisons at UMass-Lowell, and they delivered the sad news we suspected was coming — due to the ongoing health and safety concerns caused by the COVID-19 pandemic, the University will not be allowing overnight guests this summer. Frankly, I think most (if not all) of us could see the handwriting on the wall and had come to the realization that it's simply not safe, nor logistically feasible, to hold a regular Necon this summer, and I honestly find it reassuring that our partners at UMass-Lowell feel the same way. As such, the University happily rolled our deposit forward and we've secured our dates for next year. Necon 40 will now be held July 21st – July 24th, 2022, and we are in the process of reconfirming our Dais of Guests for those dates. So, stop me if…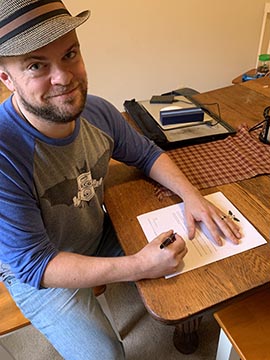 Dear Campers, If it seems like you've received this letter from me before, I don't know what to offer other than the famous Yogi Berra quote — it's deja vu all over again! A couple of months ago, I received a call from Deborah Melnick, our contact at Salem State. In a cost-cutting measure due to the COVID-19 pandemic, the university shuttered its summer events program and fired her entire department. In short, Necon was left searching for a new venue again. Among all of the proposals we received and considered from potential venues, there was one which blew us away and checked all of our proverbial boxes, maintaining the unique and quirky elements that make Necon, well, Necon. As such, I'm happy to announce that Necon 40 will now be held at the University of Massachusetts Lowell. The dates for our convention will remain July 15th – 18th, 2021, our entire dais of Guests has confirmed they still plan to attend, and all 250 Campers will still be housed in apartment-style suites on campus. Beyond that, UMass-Lowell has an on-campus art gallery that they plan to make available to us for our Art Show, and they will designate an outdoor lawn area as a "BYOB After Hours…
Dear Necon Campers, Unfortunately, Tananarive Due will not be able to attend Necon 40 the summer of 2022 (and let's face it — with multiple COVID postponements delaying the convention for two years, some scheduling conflicts seemed inevitable). She sends her apologies, and on behalf of the entire Necon Family we'd like to send Tananarive our very best. Naturally, Camp Necon will continue to honor any refund requests we receive from Campers who have already registered. But out of chaos comes opportunity, and Camp Necon is thrilled to announce that Cassandra Khaw has accepted our invitation to attend Necon 40 as a Writer Guest of Honor! Cassandra Khaw is an award-winning game writer, and former scriptwriter at Ubisoft Montreal. Khaw's work can be found in places like Fantasy & Science Fiction, Lightspeed, and Tor.com. Khaw's first original novella, Hammers on Bone, was a British Fantasy award and Locus award finalist, and their novella, Nothing But Blackened Teeth, is published by Nightfire. Our sincerest thanks to Cassandra for accepting our invitation, to Tananarive for her continued support, and to all Campers for your understanding. We look forward to seeing you all in July of 2022!


Please CLICK HERE to email us with any questions or comments.