Dear Necon Campers,
Due to unforeseen circumstances, Kathryn Ptacek has had to cancel her plans to attend Necon 40. We know we speak for all of Necon when we send Kathy our love and our very best, and we hope she'll be able to join us again in the near future.
Of course, you already know what's coming next thanks to the title — Camp Necon is thrilled and honored to announce that P.D. Cacek has accepted our invitation to join the dais and attend the convention this summer as a Necon Legend!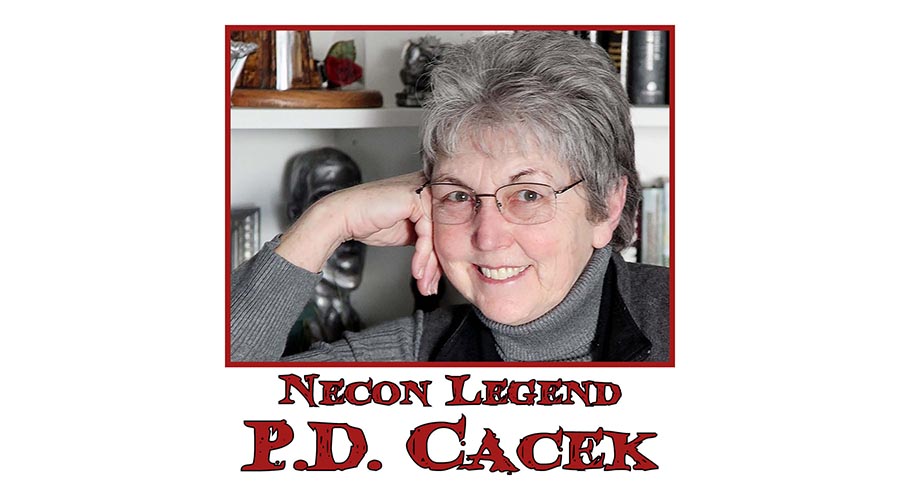 P.D. Cacek has published over a hundred short stories and five published novels. A past Guest Lecturer at the Odyssey Writing Camp, Cacek's horror, fantasy, and science fiction stories have appeared in numerous magazines and anthologies since going professional in the late 90's. She is also proud of the book she recently co-edited with Laura J. Hickman, the charity anthology Now I Lay Me Down to Sleep, with all proceeds going to The Jimmy Fund of the DANA-BARBER Cancer Institute. Second Chances, the sequel to her most recent novel, Second Lives, will be released in November from Flame Tree Press.
Cacek holds a Bachelor's Degree in English/Creative Writing Option from the University of California at Long Beach and is a certified Wilderness Survival Instructor. A native Westerner, Cacek divides her time between Arvada, CO — which looks own on the Mile High city — and Phoenixville, PA — only a short walk from the Colonial Theater where the famous "Run Screaming From Theatre" scene in The Blob was filmed. When not writing, she can often been found with THE PATIENT CREATURES, a group of costumed storytellers.
AWARDS:
• Bram Stoker Award for Short Fiction 1996 (Metalica)
• World Fantasy Award for Short Fiction 1998 (Dust Motes)
Thank you, Trish, from the bottom of our hearts; no one deserves this distinction more than you!